8. Southside Quarter
Construction is underway on a 105-acre mixed-use project at the southwest intersection of I-295 and J.T. Butler Boulevard:
Southside Quarter is a mixed-use development that will blend office, residential, hotel, retail, commercial and more, and will deliver the highest-quality design and architecture providing an integrated live, work and play environment. Centrally positioned just south of the St. John's Town Center in Jacksonville's most active submarket and the epicenter of Jacksonville's key entertainment, retail, transportation and employment areas, Southside Quarter offers the ideal location for companies, tenants, future residents, shopping, dining and entertainment. Hines also today released preliminary design and site plans for the initial Class A build-to-suit office sites which are available for corporate tenants. Office sites in the first phase include up to two 125,000-square-foot buildings for a total of 250,000 square feet. The office building sites will provide lake views, excellent visibility from J. Turner Butler, ample parking and signage opportunities, and will be walkable to future residential and retail components. Plans are advancing for multiple residential sites and concepts that will be available at Southside Quarter with additional announcements forthcoming. Select parcels are available now for retail, high-density single-family residential, commercial, hotel and additional office uses. Southside Quarter focuses on connectivity, walkability, pedestrian-friendly pathways, a central lake amenity and abundant green space.
For your information: https://www.dannybecton.org/hines-breaks-ground-on-southside-quartera-signature-mixed-use
9. IKEA Jacksonville
Sweden-based IKEA continues construction on its fifth home-furnishing store in Florida and first in Jacksonville. The 294,000-square-foot store will be located adjacent to I-295 East Beltway at 7801 Gate Parkway. Its 25-acre site will allow for additional future expansion to 335,000 square-feet. The store will also include a supervised children's play area and a restaurant. 250 jobs are expected to be created when the massive retailer opens its doors in fall 2017.
10. Interstate 95 at J. Turner Butler Boulevard interchange Improvements
The Florida Department of Transportation has awarded a contract for the design and construction of the operational improvements to the existing interchange at I-95 and SR 202 (J.T Butler Blvd.). Construction began in November 2014 and is anticipated to be completed in Summer 2017. The following roadway improvements will be constructed as part of the project:
A. Widening, reconstruction, and/or milling and resurfacing of SR 202 between US 1 (Philips Highway) to approximately 2,800' east of Belfort Road.
B. Widening or full reconstruction of I-95 within the limits of the interchange.
C. Widening and/or reconstruction of the I-95 and SR 202 on / off ramps, which includes the reconstruction of the I-95 northbound off ramp to accommodate a westbound SR 202 turning movement.
D. Construction of a new two-lane, 1400' long, flyover bridge to accommodate I-95 southbound to SR 202 eastbound traffic.
E. Reconstruction of the I-95 over SR202 mainline bridges.
F. Construction of a new roadway configuration and new bridge to eliminate the existing weave interactions along SR 202 westbound at the I-95 northbound ramp.
G. Permanently close the access to Salisbury Road North from SR 202 westbound.
H. Reconstruction of the SR 202/Salisbury Road South intersection to provide right-in, right-out movements.
I.Widening, full reconstruction, and/or milling and resurfacing of Salisbury Road South within the specified limits.
J. Construction of noise walls along SR 202 westbound, I-95 northbound and I-95 southbound.
K. Construction of new signalization along SR 202 at US 1 (Philips Highway), Bonneval Road, and the I-95 northbound and southbound off ramps.
For more information: https://www.nflroads.com/_layouts/FDOT D2 Northeast Florida Road Construction/ProjectDetails.aspx?pid=268&sid=All
11. JEA Point Meadows Substation Electric Reliability Project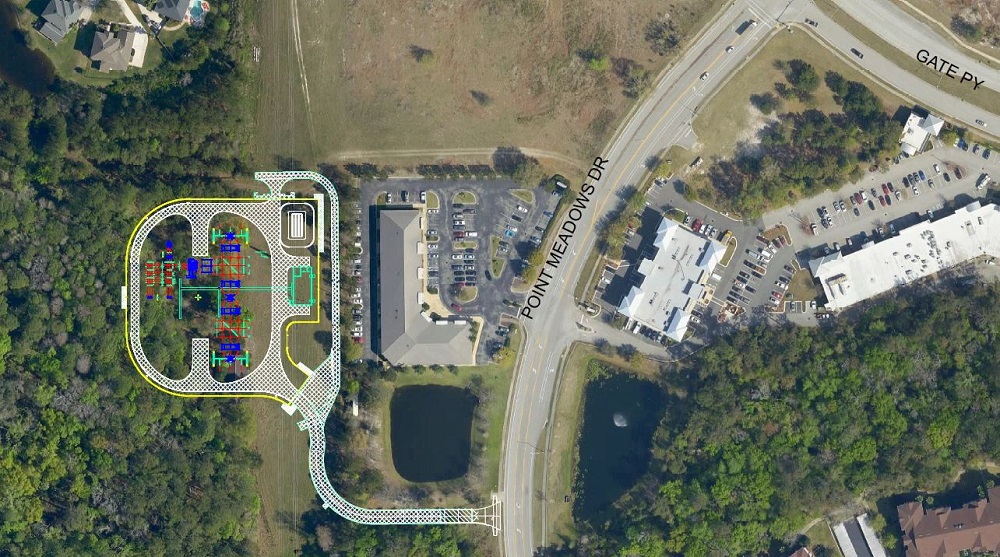 The City of Jacksonville is experiencing substantial growth on the Southside near the St. Johns Town Center and the East Beltway I-295 corridor. To keep up with the electric demand and maintain the reliability of our electric system, JEA is continuously investing in projects to upgrade and expand our electrical grid. Construction is underway at the new Point Meadows Electric Substation which will be located along an existing transmission line easement just off Point Meadows Drive near Gate Parkway Boulevard. When completed, this new substation will substantially improve the reliability of the electrical system in your area as well as reduce the chances of overloading a circuit which can lead to unplanned power outages.
For more information: https://www.jea.com/ptmeadowssub/
12. Northeast Florida Express Lanes
A project to add tolled express lanes and noise wall barriers along I-295 from Butler Boulevard to SR 9B is underway. In addition, the $140 million project will include interchange improvements at Gate Parkway and Baymeadows Road.
The express lanes construction along I-295 from J. Turner Butler Blvd. to State Road 9B will begin in spring 2016. The design-build team of Archer Western Construction/Reynolds Smith & Hills were awarded the contract to design and construct the second express lanes in Northeast Florida for $139.9 million. The express lanes project includes: - Construction of two additional 12-foot travel lanes (tolled express lanes) in each direction - Constructing noise walls along I-295 in various locations - Building drainage ponds - Installing electronic tolling systems at various locations to collect tolls The two access points for the two northbound express lanes will be at State Road 9B and I-295 between Philips Highway and State Road 9B. The two access points for the two southbound express lanes will be just north of the J. Turner Butler Boulevard Bridge, and just south of the Gate Parkway interchange off-ramp. Traffic entering from Gate Parkway and Baymeadows Boulevard will not have access to the express lanes.
For more information: https://www.northfloridaexpress.com/Sr9BtoJTButlerBoulevard/Pages/Home.aspx
13. Mayo Clinic Destination Medical Center
Construction is underway on the development of a $100 million, 150,000-square-foot destination medical center at Mayo Clinic. The structure is being designed to allow for up to 15 floors of eventual expansion. Additional structures at the complex will include a 6,400-square-foot building, housing a cyclotron, and a 25,000-square-foot lung restoration and transplantation center. The project's main structure is anticipated for completion in summer 2018.
For more information: https://www.bizjournals.com/jacksonville/news/2016/09/15/mayo-clinic-sets-schedule-for-100m-expansion-with.html
14. Baymeadows 9A Regional Park Phase II
Construction is underway on the expansion of Baymeadows 9A Regional Park. The $1.5 million project will include six clay courts, hard court and four pickle ball courts in addition to a small Pro Shop with bathrooms and showers. Expected completion date is late Spring/ early Summer of 2017.
For more information: https://www.dannybecton.org/park-announcements-november-15-2016
15. UNF Skinner-Jones Hall
A $29.7 million renovation of Skinner-Jones Hall is under construction at the University of North Florida.
For more information: https://unfspinnaker.com/unf-receives-11-million-to-complete-skinner-jones-hall-overhaul/