Downtown
1. Lexington Hotel & Conference Center Jacksonville Riverwalk
Vantage Hospitality Group is investing up to $20 million in the renovation of the Lexington Hotel & Conference Center Jacksonville Riverwalk.
[ quote ]Rooms will be renovated in phases with new carpeting, windows, balconies, doors and furnishings as well as redesigned bathrooms.
The hotel will remain open during the project.
The work will include an exterior re-facing, roof replacement, new windows, a renovated porte cochere in the front, the addition of a porte cochere at the entrance of the convention center in the back along Prudential Drive, a remodeled pool area and a redesigned fifth-floor terrace.
In the ground-floor public areas, the lobby, lounge and restaurant will see significant upgrades. Carpeting will be replaced by hard flooring and new furnishings will be added throughout, in addition to the drop ceilings.
The lobby will be redesigned and moved closer to the front, opening up a sight-line to the pool area. It also will have a coffee bar and an art wall and water feature that will front most of the elevators, which now are exposed.
The expanded lobby lounge will be rebuilt with a loggia so that part of the seating area will be outside under cover.
The fitness center will be renovated and the ground-floor restaurant will be renovated with a covered outdoor seating area.[ quote ]</i>
For more information: https://www.jaxdailyrecord.com/showstory.php?Story_id=546154
2.The First Coast Mohs Skin Center
Plans are underway to transform a 1.2-acre site, at Park and Rosselle Streets, into a 2-story 11,516 square foot medical office building and associated retail. The First Coast Mohs Skin Center will occupy the first floor of the proposed Spanish-styled structure. "Mohs" refers to a technique that removes cancerous tissue with minimal effects to healthy tissue. The second floor will be for general offices. The building's footprint will face Park Street with parking in the rear, along Rosselle and Chelsea Streets. The project should be completed by November 2016.
For more information: https://www.metrojacksonville.com/article/2016-mar-medical-office-building-proposed-in-brooklyn
3. Beaver Street Villas
LaVilla's long closed New Center Hotel at 605 North Broad Street is being renovated by nearby Clara White Mission into street level offices and 16 upper level apartment units.
For more information: https://www.metrojacksonville.com/article/2013-jul-more-downtown-mixed-use-beaver-street-villas
4. 100 North Laura Street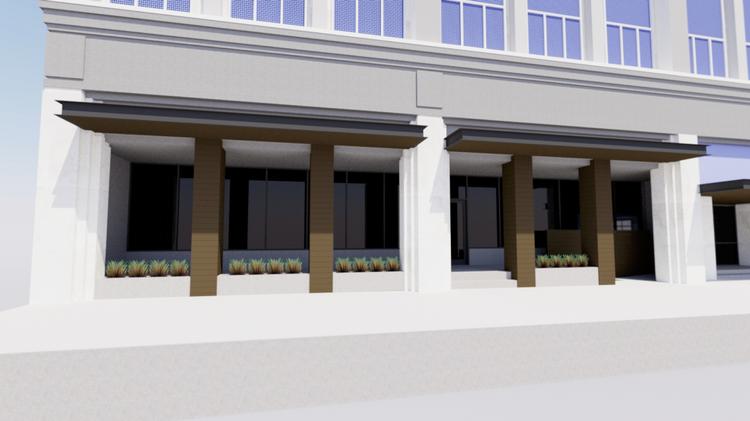 The renovation of 100 North Laura Street is underway. Plans include a new restaurant opening in 2016, that will be operated by Black Sheep. However, the restaurant will have a different concept and name than the popular Five Points establishment.
For more information: http://www.bizjournals.com/jacksonville/blog/morning-edition/2015/11/black-sheeps-downtown-location-gets-approval-for.html
5. Washington Street Bridge
The Washington Street Bridge over Hogans Creek is in the process of being replaced. The $1.7 million project includes replacing the existing bridge box culvert with a single span culvert, resurfacing the roadway and reconstructing existing sidewalks. The 10-month long project is expected to be completed in summer 2016.
6. Brixx Wood Pizza
North Carolina-based Brixx Wood Pizza will be opening their first Florida location at 220 Riverside.
[ quote ]The concept will include 3,714 square feet inside with a 1,400-square-foot outdoor patio. The location will feature wood fired pizzas, salads, pasta and sandwiches alongside a wide range of dietary options from vegetarian to vegan to gluten-free. Founders of the concept believe "everyone should be able to enjoy a night out for pizza!" Brixx Wood Fired Pizza is known for its high-quality menu paired with wine and craft beer in a casual but upscale atmosphere. Juna Partners, LLC is the franchisee and Lora Ramsey is the principal representing Florida's first Brixx location.[ quote ]
For more information: http://advantagebizmag.com/blog/2015/11/03/franklin-street-brings-brixx-wood-fired-pizza-to-florida/
7. Jacksonville Public Library
Exterior renovations continue to move forward on downtown's Jacksonville Public Library.
8. The Bank Barbecue and Bakery
A new restaurant called The Bank Barbecue and Bakery will be opening in June at 331 West Forsyth Street.
9. Laura Apartments
Ron Chamblin, owner of the city's largest independent bookstore, is in the process of restoring a three story building at 225 North Laura Street. When complete, the 100-year-old building will include six apartments above street level retail.
Full article: https://www.metrojacksonville.com/article/2012-may-downtown-residential-project-underway#.U__RV_ldUYk
10. Cowford Chophouse
The restoration of the historic Bostwick Building continues to move forward. Forking Amazing Restaurants intends to convert the structure into an upscale steakhouse restaurant called the Cowford Chophouse. When complete later this year, the two floor dining establishment will feature a rooftop lounge with spectacular views of the city.
11. Riverside YMCA
Construction continues on the new YMCA on Riverside Avenue. The new facility will be 72,000 square feet, about 8,000 square feet bigger than the current one, which was built in the 1950s. Work is expected to take 15 months.
For more information: http://jacksonville.com/business/2015-05-05/story/construction-begin-soon-new-ymca-riverside-avenue
12. Elena Flats
Jack Meeks and his wife, JoAnn Tredennick, recently purchased the Elena Flats building at 122 E. Duval St. Work is underway to convert the former rooming house into four market-rate apartment units. Barring unforeseen complications, the apartments should be ready for rent in early 2017.
Forking Amazing Restaurant
Forking Amazing Restaurant's temporary office has moved to 301 E. Bay Street to make way for their Cowford Chophouse restaurant buildout at Ocean and Bay Streets.
For more information: http://www.bizjournals.com/jacksonville/blog/morning-edition/2015/10/forking-amazings-jacques-klempf-buys-up-bay-street.html
14. Intuition Ale Works/Manifest Distilling
The 36,000-square foot warehouse at 929 East Bay Street is being converted into a new brewery and distillery. Intuition Ale Works will occupy roughly 60% of the structure. Manifest Distilling will occupy the structure's remaining space. Intuition Ale Works is anticipated to open its new location in summer 2016. Manifest will open in spring 2016.
For more information: http://www.bizjournals.com/jacksonville/news/2015/11/06/new-distillery-to-open-in-downtown-jacksonville.html
15. Broadstone River House Apartments
The Alliance Residential Company appears to be moving forward with their plans to construct the 265 unit Broadstone River House apartments on a 3.7-acre parking lot adjacent to the Duval County School Board building.
For more information: https://www.metrojacksonville.com/article/2015-nov-new-downtown-living-broadstone-river-house-apartments-
16. State & Union Street Resurfacing Project
The Florida Department of Transportation is investing $13 million in the resurfacing of State and Unions Streets and the Mathews Expressway between I-95 and MLK, Jr. Parkway. The 4-mile project includes repairing and replacing sidewalks, upgrades to handicap-accessible sidewalk ramps, crosswalks and repair to storm drain pipes and inlets. Also included in this project is the conversion of Main Street, between State and Union Streets, from a one-way to a two-way street. This project is anticipated to be completed in the spring of 2017.
For more information: https://myfdotnefl.wordpress.com/2015/11/16/state-street-union-street-and-mathews-expressway-resurfacing-project-2/
Hollywood Cuts
On June 1st, a barbershop called Hollywood Cuts will open at 44 West Monroe Street
18. FSCJ Dormitory
The Florida State College at Jacksonville (FSCJ) is in the process of converting the long vacant Lerner Shops Building into student housing. When complete, FSCJ plans to house up to 60 students in the structure at 20 W. Adams Street. In addition, FSCJ plans to open a "Panera-style" culinary café on the building's ground floor that will act as showcase for the school's culinary program.
For more information: http://www.bizjournals.com/jacksonville/blog/morning-edition/2016/02/fscj-student-housing-capitalizes-on-larger-trends.html
19. Level Jacksonville
Chicago-based Iconic Investors LLC acquired the 106-year old Groover-Stewart Drug Company warehouse building for $2.05 million. The 53,000 square-foot Groover Stewart Building is located at 25 Market Street, the 53,000-square foot building will be renovated into office uses.
20. EverBank Field
Stadium renovations continue at EverBank Field. In addition, the Jacksonville Jaguars plan to start construction on a new lex field and amphitheater in April 2016. The 5,500-seat amphitheater and flex field, which will be used for an indoor practice facility, as well as an events and entertainment venue, have been portrayed as a "game changer" by owner Shad Khan.
For more information: http://www.bizjournals.com/jacksonville/news/2016/03/17/jaguars-amphitheater-flex-field-construction-to.html
21. Bold City Brewery Downtown
Bold City Brewery is in the process of opening a new brewery and taproom at 109 E. Bay Street, next to the Cowford Chophouse. The new three-barrel system downtown location is intended to give brewers a chance to try new recipes and brew small, single batches.
For more information: http://jacksonville.com/business/2015-12-01/story/bold-city-adding-downtown-brewery
RIVERSIDE/AVONDALE
22. Le Macaron French Pastries
Le Macaron French Pastries is in the process of opening their second Jacksonville location in the Shops of Avondale.
For more information: http://www.lemacaron-us.com/about
Berkshire Avondale
Renovations are underway at the Berkshire Avondale building at 3627 St Johns Avenue.
23. Chomp Chomp
Popular downtown restaurant Chomp Chomp will be relocating to 4162 Herschel Street in Fairfax in May.
24. Luba's Pet Grooming
Luba's Pet Grooming will be opening in the former Cafe Freda space at 2782 Park Street.
25.Five Points Tavern
Five Points Tavern will open at the former site of O'Brothers Irish Pub in May. Featuring regional American food, the restaurant will also include 15 beer taps, wine and cocktails.
26. Riverside Dog Park
Construction on the Riverside Dog Park is now underway. The 2-acre, off-leash park will be located under I-95 in Riverside Park.
For more information: http://www.riversideavondale.org/index.php?id=236
27. Hoptinger Bier Garden and Sausage House
Hoptinger Bier Garden and Sausage House will be investing $1 million to build-out a new restaurant and bar in Five Points at 1037 Park Street. The new restaurant is expected to open in spring 2016.
For more information: http://jacksonville.com/business/2015-08-25/story/hoptinger-open-five-points
The Mazer
A new bar called The Mazer is expected to open at 1512 King Street in June. The bar will specialize in craft beer, cider, mead and wine.
For more information: http://jacksonville.com/entertainment/food-and-dining/2016-03-31/story/new-bar-coming-king-street-its-own-mead-and-cider
29. Bearded Buffalo Brewing Company
Scott McAlister has started interior work on the Bearded Buffalo Brewing Company on King Street. When complete, the entertainment venue will offer craft beer, a broad liquor selection and food. The 99-seat restaurant/bar will be located at 1012 King St. between Burger King and Panda House.
30. Happy Grilled Cheese
Happy Grilled Cheese is opening a brick and mortar across the street in the original Cozy Tea space.
For more information: https://www.metrojacksonville.com/article/2016-mar-happy-grilled-cheese-in-five-points-renderings
31. 3313- 3317 Post Street
Four two-story townhome units are being developed by Hoose Homes and Investments LLC at 3313-3317 Post Street in Murray Hill.
32. South Kitchen and Spirits
Construction is underway on South Kitchen and Spirits at 3638 Park Street. South Kitchen will be a new 250-seat, 8,071-square-foot restaurant.
33. Magnolia's Pub
1198 South Edgewood Avenue will become the new location of Magnolia's Pub. The family friendly restaurant serving waffle sandwiches, salads, dessert waffles, weekend brunch and pub fare was recently approved for a parking reduction and outside sales of beer, wine and liquor. The new restaurant should open in early 2016.
For more information: https://www.facebook.com/Magnoliaspub
La Cena
Downtown's La Cena Ristorante will be moving to 911 Edgewood Avenue in Murray Hill.
For more information: https://www.metrojacksonville.com/forum/index.php?topic=26622.0
1050 Edgewood Avenue
Construction on a new 3,150 square foot coin laundry building for Shin Lee, by Tthe Noble Construction Group, Inc., is now underway at 1050 Edgewood Avenue in Murray Hill.
Blue Martini Liquors
A former convenience store at 3006 Post St. is being remodeled into the Blue Martini Liquors.
SPRINGFIELD
34. 348 East Third Street
Take 2 LLC is in the process of renovating a mixed use building at the intersection of 3rd & Walnut. The long abandoned 7,945-square-feet building was built in 1919.
35. Dozier Apartments
Proposed Exterior Elevations
Construction is underway on a 14-unit affordable housing apartment complex at 122 West 8th Street. The proposed multi-family infill project will be developed by Operation New Hope.
For more information: https://www.metrojacksonville.com/article/2013-sep-infill-apartment-project-coming-to-springfield
36. Castle on Klutho Park
Michael Bourre, owner of Bourre Construction Group recently purchased the 106-year-old Drew Mansion, at 245 West Third Street. Bourre plans to renovate the 4,989-square-feet home into a company office and showroom.
For more information: http://www.bizjournals.com/jacksonville/news/2015/02/20/local-contractor-purchases-historical-drew-mansion.html
37. Main Space
Fashion designer and Jacksonville native Alyssa Key is planning to turn 1101 Main Street into a mix of uses. Uses include the Love Brigade & Crux Collective on the second floor, Southern Roots Filling Station (coffeehouse), Main Space (a multi-use space), and perhaps a beer garden will be on the first floor. Main Space is expected to open summer 2016.
39. Crispy's - 1735 North Main Street
ALthough exterior work has not started, owner John Crispens continues to progress on the interior conversion of 1735 N. Main St. into an Italian-themed restaurant and bar, art gallery and dry cleaning service. Originally, the Akra Bros. department store, the 5,850-square-foot space will feature a 150-seat restaurant that will be open for breakfast, lunch and dinner, seven days a week. Crispy's is expected to open in May 2016. Recently Crispy's was approved by the State for a restaurant license.
For more information: https://www.jaxdailyrecord.com/showstory.php?Story_id=546734
40. 1717 North Main Street
It appears the former Serentea location at 1717 North Main Street is in the process of being renovated for a new tenant.
41. Hubbard Street Bridge
The Florida Department of Transportation's $1.5 million project to reconstruct and replace the Newnan/Hubbard Street Bridge over Hogan's Creek, is underway.
The project includes removing the existing bridge deck while retaining the existing historic architectural walls of the Henry J. Klutho-designed bridge that dates back to 1929. The roadway approaches will also be rebuilt to facilitate the bridge replacement. The project also includes refurbishing existing sidewalks and adding bike lanes. The project is scheduled to be complete in fall 2016.
For more information: https://myfdotnefl.wordpress.com/2016/02/22/newnanhubbard-street-bridge-resconstruction-project-to-start/
42. Springfield Restorations and New Construction
Every week, it appears that more restoration and residential infill projects are getting underway in Springfield.
SAN MARCO
43. Interstate 95 Overland Bridge
The Florida Department of Transportation (FDOT) began January 14, 2013 to replace the series of overpasses that carry traffic over Hendricks, Kings and Montana avenues along 2.3 miles of I-95 near downtown Jacksonville in Duval County. Known as the Overland Bridge project, it will improve traffic flow along the I-95 corridor just south of the Fuller Warren Bridge. I-95 will be widened to provide an additional lane for southbound traffic. As the project is built, traffic will use parallel roadways, which upon completion of the I-95 bridge structures, will remain and provide additional capacity for traffic between the Fuller Warren Bridge and north of Emerson Street. The $227 million project is estimated to be completed in 2016.
For more information: http://www.i95overlandbridge.com/
44. San Marco Station/The Hexagon/La Nopalera
Popular Mexican restaurant La Nopalera plans to relocate from 1629 Hendricks Avenue to San Marco Station in a few months. Work is now underway on the restoration of a building that dates back to days of the City of South Jacksonville, which merged with Jacksonville during the early 1930s. Also, a retail kiosk called "The Hexagon" is being added in the courtyard of San Marco Station for an additional tenant.
For more information: http://jacksonville.com/business/2016-04-19/story/la-nopalera-moving-san-marco
47. Hollingsworth Showroom
Worth Turner recently acquired the former Peterbrooke chocolate factory at 1458 San Marco Boulevard. Turner plans to move the Hollingsworth Showroom into the building's first floor. The Hollingsworth Showroom, features high-end kitchen, bath, tile and lighting and is currently located at 1903 Hendricks Avenue.
50. Towers of Jacksonville
The Retirement Housing Foundation is spending $8.5 million to renovate the Towers of Jacksonville affordable housing complex. Work being performed on the 194 unit apartment building includes the replacement of plumbing, HVAC, wiring, elevators and other infrastructure throughout the 44-year-old building. In addition, each apartment will be modernized with new kitchen cabinets, full-size appliances, new bathrooms, fresh paint and carpeting.
For more information: http://residentnews.net/2015/06/04/owners-spend-millions-give-towers-jacksonville-makeover/
Development update by Ennis Davis, AICP. Contact Ennis at edavis@moderncities.com